Programmer's Notepad 2.3 Released
01 Sep 2011
I'm happy to finally announce a new stable release, Programmer's Notepad 2.3, has been released to our Google Code page. This release has focused on cleaning up many areas of 2.2 that were buggy or incomplete, and so doesn't many large new features. Instead look for small improvements all over the place.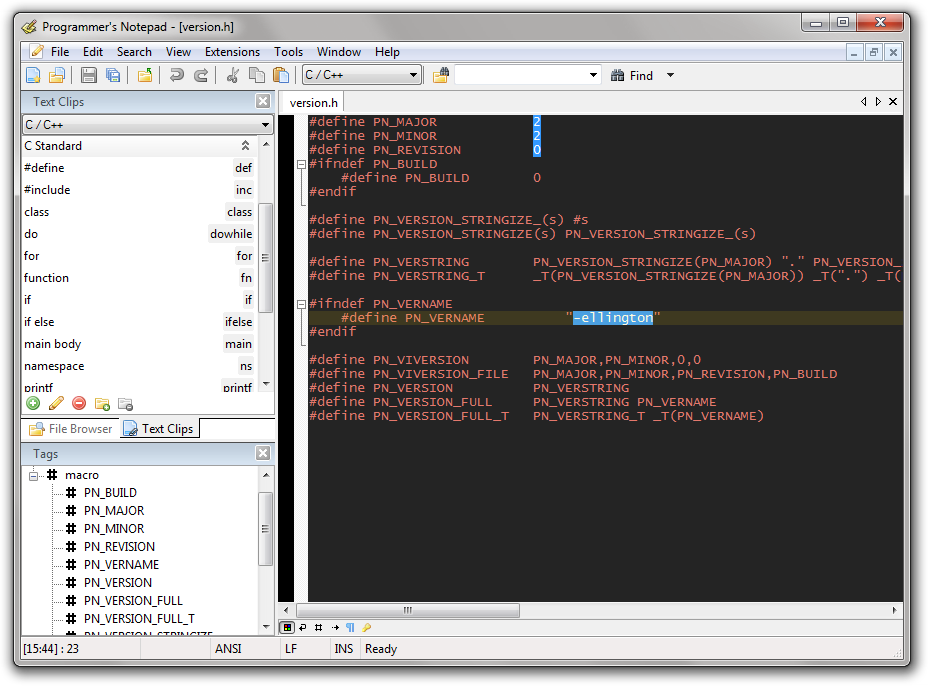 Headline Changes in 2.3:
Jump dialog now filters results as you type.

Custom scheme is now implemented as a PN extension, and adds extra identifier block comment types

Double-click on tab bar (not on tab) starts a new doc.

Miscellaneous updates to schemes to improve highlighting (including HTML5 elements and attributes).

RTF export reworked, background colours now working better.

Properties scheme folding.

Select a URL and right-click to go to it.

New German and Russian translations.

Scheme Presets: Solarized (Light), improved Obsidian, thanks to contributors.
More than 25 bugs both small and large were fixed in this release, and it has had a good series of test builds to try and shake big problems loose.
Downloads: Download 2.3 Installer Download 2.3 Portable
You may also like to add the PyPN extension to your 2.3 install to get support for scripting/macros with Python: PyPN 1.1
Finally I wanted to say thank you to all those who make these releases what they are. Firstly to everyone who has contributed code, designs or ideas, and to all those who download every test build and provide feedback or bug reports. Next to the translators who have updated existing translations and added new languages for this release, thanks for your patience as we make more and more of the UI translatable. Last but not least thanks to those who have sent donations or gifts, I try to thank you personally where I can, but Amazon often doesn't send me contact details - please know they're all appreciated!