Programmer's Notepad 2.1.2 Released
05 Feb 2010
A new testing release, version 2.1.2 of Programmer's Notepad has been released to Google Code. The major new feature in this release is Code Template Fields, but there have been a lot of other changes too:
Code Template Fields

Cleaner visual style for the document tabs

Added line padding options, allows more whitespace between lines

Switch to Scintilla's built-in line length measurement

Removed some 3D styling bits to clean up the look of the editor, more to do.

New tab text changed from to Untitled

-z parameter now assumes a single file after the -z, designed for notepad replacement.

Updated to latest Scintilla bits for some multi-caret fixes

Fixed a couple of regular expression issues.

Fix tools options tab titles.

Made SmartHighlight more visible, less alpha blending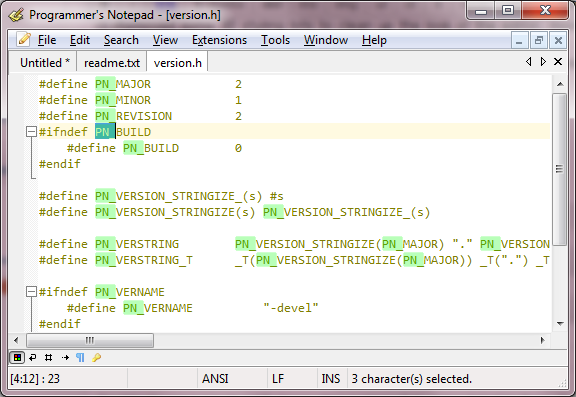 In case you haven't used a 2.1 build yet, here are the other headline features in the testing builds:
Full Unicode Support

Support for Translations - PN in your language

Prototype Command Bar feature (with PyPN)

Multiple simultaneous selections, including typing into block selections

Virtual space
Downloads:
Download 2.1.2 Installer Download 2.1.2 Multi-language Installer Download 2.1.2 Portable
Updated Portable download link now, apologies for the confusion!