Programmer's Notepad 2 0.9.794 Released
28 May 2008
It's time for a second 0.9 unstable release, bringing a number of bug fixes and new features:
Automatic Update Check - at launch Programmer's Notepad checks in the background whether there is an update available and shows you a message if there is one.
Vista open and save dialogs are now used throughout when you're running Vista, previous OS versions should be unaffected
Programmer's Notepad is now marked as Vista-aware, meaning that reads and writes to Program Files and similar locations are no longer redirected to the Virtual Store.
Find in Files can now search all open files
PyPN update 0.9 fixes a couple of event handlers
The update check is a very commonly requested feature. The system understands the difference between stable and unstable releases so most users will only ever see stable updates.
Currently there's no UI option to enable unstable update checks (there will be!) but you can enable them for yourself by setting this registry value (assuming you're using a default PN install):
Key: HKEY_CURRENT_USER\Software\Echo Software\PN2\General Settings
Value (REG_DWORD): CheckForUnstableUpdates = 1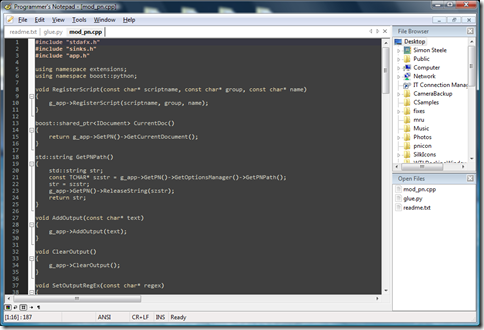 What else is new in the 0.9 series?
File browser window
Open files window
New, far better regular expressions support (multiline is coming)
More colour schemes (I'm currently using ZenBurn) and the base styles adapt better with the colour schemes
New PyPN release with more event hooks
More Vista control styling dotted around (when running on Vista!)
Downloads
Installer: http://pnotepad.googlecode.com/files/pn209794.exe
Zip: http://pnotepad.googlecode.com/files/pn209794.zip
Portable Zip: http://pnotepad.googlecode.com/files/portable-pn209794.zip
PyPN for Python 2.4: http://pnotepad.googlecode.com/files/pypn-0.9.794-py24.zip
PyPN for Python 2.5: http://pnotepad.googlecode.com/files/pypn-0.9.794-py25.zip