Windows Live Writer Update
06 Sep 2007
Updated releases of various "Windows Live" software packages include Beta 3 of Windows Live Writer. This is good. Unfortunately the install experience for WLW gets worse with each release. This latest update includes a Browser Helper Object (to help me sign into Windows Live - I don't have an account) that requires me to allow it to interact with my computer each time I run Internet Explorer: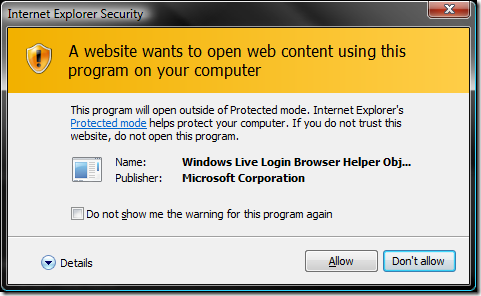 Oh dear. This on top of the installer which tries to get me to install every other Windows Live software package just to get an update for Writer.
Fortunately Internet Explorer allows me to remove this Browser Hosing Object. Simply open the Options dialog (from Tools -> Options) and select "Manage add-ons" on the Programs page.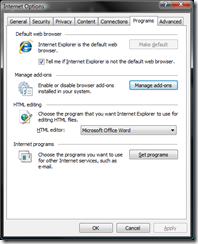 Then find the "Windows Live Sign-in Helper" add-on and select the Disable button: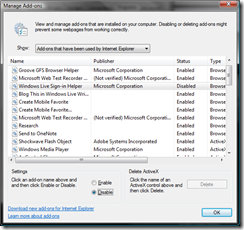 No more annoying UAC prompt for me! Hopefully this will be fixed for the next release, I really don't need any Browser Helper Objects to allow me to use Windows Live Writer to post to my Wordpress blog.