OneNote Calendar
27 Mar 2007
OneNote Calendar is a new free tool from Josh Einstein, allowing you to see your OneNote page edits in calendar form. A lovely Vista-style UI provides shows an excellent view onto your OneNote activity.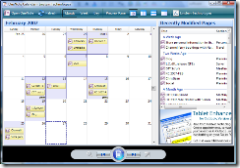 I'm increasingly using OneNote to make notes on all my day-to-day activities (with Office Groove 2007 synchronising my notes between machines) and a single view to show what I've been working on is really useful - thanks Josh!
Note: OneNote Calendar requires Microsoft's .NET Framework 2.0 and OneNote 2007.